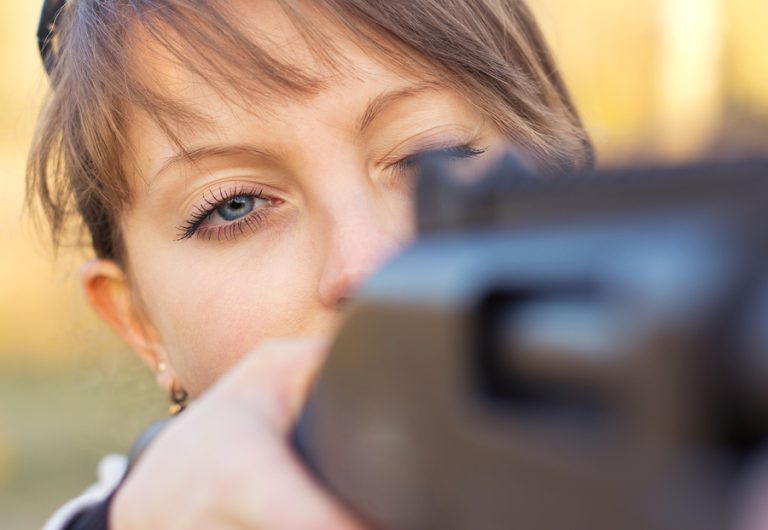 During my early years as a nurse I worked night shift at a local hospital. In the wee hours of the morning during those long night shifts, I'd go into my patient's room to check on them.
Sometimes I'd find them awake reading or watching television and sometimes I find them asleep with the television watching them.
One night as tipped around my patient's room, I noticed a television program that caught my attention. It was an Outdoor Sportsman's Competition. I stood there in the quiet of the room watching as the contestants participated in a variety of outdoor sporting activities like Tree Chopping, Sport Fishing, Bow and Arrow Shooting and Skeet Shooting.
As I stood there watching, I was most intrigued by the Skeet Shooting.
I watched as the marksmen aimed and fired their rifles at disks being shot into the air at top speed from various directions. When the shooter hit the disks, they would shatter into a million pieces in mid-air! The contestant able to shoot and demolish the most disks in the fastest amount of time won the competition.
It's been a long time since I left that tiny hospital but from time to time I'd find myself thinking about that competition, skeet shooting and the object of that sport. But why, what does skeet shooting have to do with me?
Then one day the Lord gave me a powerful revelation about skeet shooting and how we as believers can use that same concept to combat negative thoughts.
As believers the enemy's goal is to flood our minds with negative thoughts about ourselves and the situations in our lives in hopes that we will literally think ourselves to death.
Maybe you're like me and feel like negative thoughts seem to fly around in your head as if someone were firing those thoughts like disks in the air.
And maybe you too have wondered, what are thoughts and where do negative thoughts come from?
Thoughts are past events stored as memories. Our mind conditioning and beliefs are also stored as memories. Thoughts can be positive or negative depending on what we have conditioned ourselves to meditate on.
The enemy definitely prefers to manipulate us with the latter.
When negative thoughts enter our minds we have less than 30-seconds to either demolish and destroy those thoughts or allow them to fester producing a chain reaction of negative thoughts.
Just like the skeet shooter, we must demolish every negative thought that exalts itself against what God says about us.
Just like the skilled marksman, we must be armed and ready to shoot every negative thought using the Word of God as our ammunition.
We must shatter every thought like "No one loves me". Shoot that thought with Romans 5:8. "But God demonstrates his own love for us in this: While we were still sinners, Christ died for us!"
"My past is so bad, God will never forgive me". Shoot that thought with Phil. 3:13-14. "Brothers and sisters, I do not consider myself yet to have taken hold of. But one thing I do. Forgetting those things that are behind me and I press towards the mark of the prize and high calling of Jesus Christ!"
"I am never going to get well". Shoot that thought with Ps. 107:20. "God sent his word to heal me and he will deliver me from destruction!"
You get the picture, right?
So beloved, with the speed, precision and accuracy of a skilled marksman, let's demolish and destroy the enemy and every thought that exalts itself against the Word of God and what it says about us.
We can do what He says we can do, be who He says we can be and have what He says we can have.
Ready, Aim, Shoot!
by Marsha Pope