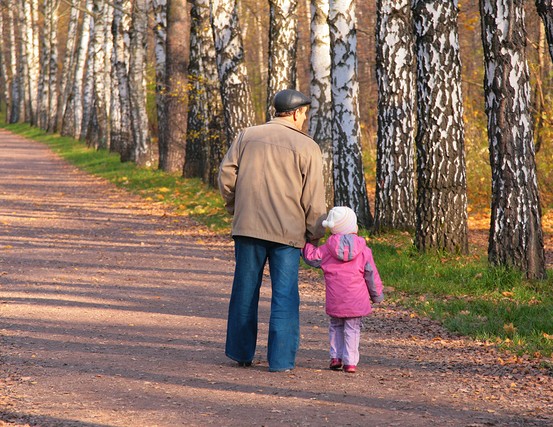 This morning as I was sitting outside drinking my coffee, enjoying the warmness of the morning and watching my cat eat grass, I noticed an older, gentle, man walking with a little girl.
She could not have been any older than two, in her cute pink coat and beautiful blond hair underneath her white hat, walking hand in hand with what I supposed to be her grandfather.
She was enjoying her wonderful new world, the bugs at the curb, the birds chirping, the feel of the grass and I noticed that every moment, her grandfather was holding her hand. The grandfather, well pleased with anything that the little one was curious about, was content to watch over her carefully.  Looking to see if any car was on its way down the tree-lined street, checking to make sure no one was going to harm this little bundle of joy.
He talked with her, bent down to show her a bug crawling on the street in front of her and then watched her intently as she tried to play with the bug. When the bug adventure was over, the journey continued around the corner and down the next street.
The little girl, so free in her life, started to dance and skip as they made their way to a brighter street that had fewer trees but more sunshine. She was excited to go down the street, but distracted by possibly another bug, started to turn around and go back to where they had just come from. The grandfather, fully aware of every gesture, every move, every smile and every word she made, hung on to her hand securely, making sure she was well protected. Nothing was going to interrupt her walk this morning.
She hung tightly onto the grandfather's strong hand trusting him to lead her on her little journey, to see more cute little bugs, or pretty flowers to smell, or just to spend time on her walk with her loving grandfather.
As I sat there watching the lives of two people I did not even know, God, in His picture words, very clearly spelled out my walk with Him. He showed me that no matter where I have been, God, in His infinite love, has held on to my hand, watching everything I do.
God does not hover over me to find everything wrong with me but He is always there to enjoy what I enjoy, never letting me out of His sight. Even when I have turned my own way to go back to where I came from He was still there, whispering in my ear the way to go and gently leading me to go with Him. At times, I am sure,  I thought I was going my own way but His hand was always in mine, guiding me.
God did not leave me in the middle of the street unprotected from the unknown but made sure that He watched every move I made, guiding me toward the right way of living.
Hand in hand with my Father.
by Bonnie Belden